Even if you don't plan on monetizing your show it is a good idea to have a podcast business plan. You could call it Podcast Outcome Plan if you don't like the word business.
This page features some affiliate links which means purchases made through some links will provide a small commission to PodcastHero.com
Whatever you call it, going through the planning process and having a business plan will make you better prepared and set you up for success.
🔻 Take the POLL below 🔻
Writing a Podcasters' Business Plan
🎙️ A Step by Step Guide.
💡 Having a plan is a good idea when you start doing anything new.
Being intentional about your focus and your efforts will bring you better results.
Take some time to go through the planning process for your podcast so you don't fall into any podcasting pitfalls. There are a lot of mistakes that can be avoided simply by figuring out what you are doing first.
Having a written podcast plan will show you where you are, related to where you want to be.
A podcast business plan is just a snapshot of where your podcast is today and what your growth plan is for the next few years. It should explain your goals and milestones and your strategy for achieving them. The podcast business plan also needs to provide market research to support your stated goals.
Don't forget to update your Podcast Business Plan regularly! This podcast business plan is a living document and as your podcast evolves and grows over time so should your planning document.
❔ Why would I need to Plan My Podcast with a Business Plan?
If you have goals associated with your podcast then you need a podcast business plan.
Podcasting without a 'podcast business plan' is like driving in a strange city without a map.
You wouldn't get into the car and drive somewhere you have never been without using a map or navigation app, would you? You could, but the trip might be more frustrating, take longer and you might feel like turning around and driving home!
Remember that most podcasts podfade by the 7th episode!
If you identify your goals, objectives, and milestones and the steps required to achieve them then you will enjoy your podcast journey without the frustration and roadblocks that other podcasters face.
The podcast planning process will help you clarify why you are starting a podcast? Who is your target listener? What are you going to be selling? And will your content attract the right listener?
Having a podcast business plan will increase your chance of your show being congruent with what you want to achieve.
Without a plan, you might end up climbing a ladder that is leaning on the wrong wall.
If you have a written podcast business plan then you can refer to it if you feel lost or off track.
A podcast business plan can help you get funding from investors, can help you crowdfund your show, and even help you get sponsors.
When people are looking to invest in your podcast the fact that you have a podcast business plan will give them more confidence to back you.
✍🏻 How to write a business plan for your podcast?
Use the KISS principle 💋 – Keep It Super Simple
Don't overcomplicate this process. Use conversational language and don't use jargon or try to sound too professional. This is a podcast, not a major corporate undertaking.
It isn't hard to write a business plan for your podcast. You will need to invest some time to think about your show and who the show will serve. The more energy you put into this process the easier it will be to produce, promote and profit from your podcast in the future.
Remember the Four P's of Podcasting – Planning, Production, Promotion, and Profit.
Planning comes FIRST.
🎤 Podcast Executive Summary
The goal of the summary is to quickly capture the reader's attention and generate interest in the podcast.
Do this even if you aren't going to show the podcast business plan to anyone. It is ok if this business plan is only for you. Put in the work and write as if you will be presenting it to others.
The executive summary is just a quick overview of your podcast. It answers the quick questions any potential podcast partner would want to know.
Who are you?

What qualifications do you have in the niche?
What is your history with this topic?
What skills, expertise, and characteristics give you an advantage?
List all your strengths and don't be humble.

Who else is involved?

co-host?
producer?
editor?
virtual assistant?

Who are the listeners?

Define your Avatar (briefly)
Demographics

Why the content matches the audience?

What is the show about?

Summarize your idea about the show
Topic, format, and call to actions
Evergreen or Timely content?

Where will the show be distributed?

List all the podcast directories you will be listed in.
If you are going to exclude a directory (say why?)

When will episodes be published?

What day of the week do you plan to publish the show?
What frequency will the show be published? Weekly, Bi-Weekly, Monthly, Daily?

Why is the podcast being made?

What inspired you to want to start this show?
What is the ultimate goal of the show?

What is your Podcast's Unique Selling Proposition?
Is the podcast going to be explicit?

If you curse or include adult-themed content you are required to mark your show explicit.
📝 Remember if you even mark one episode as explicit your show will be removed from the India Apple Podcasts directory and more than a dozen other countries.
Include your mission, values, and purpose of the podcast at the end of the summary.
It is important to also state why the show is important to you! Write your mission statement for the show. The values and purpose of the podcast are important and should be easy to understand so anyone reading will know what your show stands for.
And also document all the milestones you want to achieve over time.
The executive summary should be a short and engaging read.
Management Team
If you and your co-host (and others on your team) have a good background in successful ventures then highlight these in your podcast business plan. A strong team is essential to building any successful venture. If you have experience running other successful shows then don't hold back that information.
If your team has no experience or expertise then you could start an advisory board for your show. And "borrow" the credibility of others who are willing to put their name on your project.
📝 Having a great podcast business plan will also help you attract good people to your team!
Podcast SWOT analysis
SWOT stands for Strengths, Weakness, Opportunities, and Threats.
Strengths – What are the strengths that will help make your show successful?
Weaknesses – What weaknesses may be holding you back?
Opportunities – What opportunities can you explore in the niche?
Threats – What threatens the viability of your show?
Competitive Analysis
Who are the competing podcasts in the niche?
Write down how many active shows you will be competing with. Don't worry if you find similar shows because unless your show is super-niche there will be other shows. Actually, I'd be more worried if there were no shows in your niche because that could imply there is no market for your topic.
Other podcasts in your niche are direct competitors but in many cases, they can be allies in your podcasting journey. Podcasting is not like broadcast media where you are competing for an audience in the same time slot. Podcasting is time-shifted media and can be listened to at any time on demand.
But of course, people only have a limited time to listen to podcasts so there is competition.
There are also indirect competitors like radio shows, TV, streaming media, and Youtube shows which compete for your listener's content consumption time.
For each direct competitor, look at their strengths, and weaknesses and compare your shows strengths and weaknesses to see where the opportunities are to improve.
What is working for the successful podcasters in your niche?
The worst thing you can do is copy the top podcaster in your niche. You will be seen as a copy cat and there is no way you can be better at being them than they already are. If you are going to copy anything copy the processes and work ethic they have. The key to success in podcasting is to find YOUR OWN secret sauce. You can't succeed by stealing another podcaster's secret sauce.
📝 Remember to think about these questions from a listener's point of view.
💻 Podcast Operations Plan
Once you start actually doing the work of planning, producing, and promoting your podcast episodes you will have to follow a podcast production and promotion workflow.
In this section of the Podcast Business Plan, you will list the equipment you will use, the workflow you will follow, and the standard operating procedures for each workflow. Remember, this plan is a living document and you will update it as your workflow improves and becomes more efficient or when you add more podcasting tools to your arsenal.
To choose the Podcast Equipment, Podcast Software, and all the other things you will need in your podcast production workflow you will first need to know what your budget is and acquire the tools that fit within it.
💰Podcast Budget
Any business plan will include a budget as well as a cash flow statement and financial projections.
With a podcast business plan, you will focus mainly on the budget.
How much money are you going to invest to start your podcast?
It is possible to start podcasting for almost FREE.
But you will have an easier, more enjoyable experience if you spend some money on good gear and reliable services.
💳 Where will you spend money on podcasting?
Podcast Studio (acoustic treatment)
Podcast Editor Services
Podcast Production Services
Podcast Marketing
Website Design and web hosting
Paid Advertising
Marketing and Productivity Software
Create a TIME Budget for your podcast
Where will you spend your time on your podcast?
If you have lots of money and little time – spending money will save you time on your podcast.
If you have lots of time but little money – spending more time on your podcast will save you money.
One of the big causes of podfading is that new podcasters drastically underestimate the amount of time it takes to make a good podcast.
If you are a new podcaster you will need to budget a lot of time for your show at first. Much more time than you probably first realize.
Create a practice episode and see how long it takes you to produce it from start to finish.
Record the time it takes to plan the episode, source the reference material, write the script (or outline), record the show, edit the show, process the audio, write the show notes and produce the episode art and social media images and to publish and start the promotion.
Once you know how long it takes you to get through one episode you can figure out if you will need to outsource some of this work to save time.
You can also decide to reduce your podcast publishing frequency if you won't have time to complete a full episode each week.
📝 NOTE: a professional podcast network like Gimlet or NPR can have up to 30 or more people working on ONE podcast at a time.
As an indie podcaster, you usually start out with just one person doing all the work (or two if you have a co-host).
Tips for saving time on your podcast production workflow:
Create an editorial calendar
Using an editorial calendar can help you to plan out multiple podcast episodes in advance and know what stage each episode is in the production workflow.
There are a lot of great tools that can help with this and most of them are free ( or freemium ).
I like Notion because I can develop my own system (without knowing any code) that is custom to my needs and how I like to work. Notion has a free plan which so far works for me.
I'm working on a Podcast Business Plan and a Podcast Production Workflow Template for Notion right now. If you use Notion you may be interested in this template.
If you want the template (once complete) then Register for the Notion Template by completing the survey at the end of this article.
I used to use Trello to manage my content production workflow and it is a great option too.
Trello is a KanBan (and more) style project management software that makes it easy to create pipelines and workflows for any project. It isn't as flexible as Notion but the learning curve is a little flatter.
And if you use WordPress for your podcast website there is a good plugin called Editorial Calendar that allows you to plan and schedule multiple posts and track your progress and even assign tasks to your team (if you have one).
Will you podcast in seasons?
Some podcasts produce their shows in seasons. In the same way that a TV Show is produced in seasons, you can release your show in podcast seasons. This will give you a break in between to let you catch your breath or get a head start on the next season.
A final word on Podcast Budgets
One of the benefits of spending time on writing a podcast budget is you get to evaluate many options on where you can spend money on your show and which solutions will best meet your needs.
Writing out a podcast budget for both time and money will help you to realize the costs associated with the different aspects of the podcasting workflow and where any money that comes in will flow in order to improve and grow the show.
This is especially important if you have a Co-host(s) who is a partner in the ownership of the show. A Podcast Business Plan and a written podcast partnership agreement are crucial. Once money starts flowing there has to be an agreement in advance on who gets what and if and how the money gets re-invested in the show.
🧩Podcast Human Resources Management
This is the section of the podcast business plan where you outline the work that needs to be done and who is going to do it.
Even if you are the only person involved in your show it is a good idea to do a thorough job here.
In the book, The E-Myth, by Michael Gerber, he says that it is very important to outline all the functions of your business and create an organizational chart displaying each function. Do this even if you are putting your own name onto each of the org chart boxes!
You are the CEO, the Podcast Host, the Podcast Editor, the Podcast Producer, the Research Team, the Community Manager, the Marketing Director… you get the idea!
Each function will have a Podcast Standard Operating Procedure (PSOP) attached to it.
As you get better at podcasting and refine your workflow, update the PSOPs to reflect your current standard as to how the work gets done.
Now you will have an employee manual for each business function of your podcast.
When it comes time to outsource one of the operational functions you just replace your name with your new personnel and train them using the established PSOP.
And if you document all the work for each role on the Podcast Standard Operating Procedures (PSOP) then you will have more content for your podcast operations plan.
📈 Podcast Marketing Plan
📊 Differentiation Analysis
In this section of the podcast marketing plan, you want to explore the niche in more detail than you did in the podcast executive summary.
What other shows are in the niche that will be competing for your listeners' time?
List all the shows in your niche and comment on their format, style, credibility in the space, the podcast album art quality, and overall appeal of these shows.
What are the most popular shows in your niche?
Which shows in the niche are the most popular? Write a brief analysis as to why you believe these shows are successful. What is different about them than the less popular shows.
Where does your show fit into the niche?
Describe how your show will fit into the mix of other shows. What will you bring to the table that others are currently not?
Will you produce content competitors don't?
Do you have access to credible interview guests in the niche? Do you have a particular skill set that is in demand in the niche? Will you offer a different format or style of the show than the others?
Will you have more audience engagement?
Will you build a more engaging audience than your competitors?
What tools will you use to generate audience engagement?
How will you get your audience to raise their hands and identify themselves.?
Podcast listening is anonymous meaning you have no (legal) way of knowing who is listening unless they volunteer to identify themselves either by signing up for your email list or engaging with you through comments, voice mail feedback, or social media mentions.
What is your plan to get to know your audience?
You can use lead magnets, quizzes, surveys, polls, and freebies to entice your listeners to raise their hands and go from anonymous to known listeners.
One of my favorite engagement tools is Smart Quiz Builder. This is a WordPress Plugin and it allows you to generate quizzes, surveys, polls, calculators, and lead magnets for your listeners.
I highly recommend it.
🎯 Target Audience (customer analysis)
Your target audience is a group of people that are ideal listeners to your show. They are also your potential customers when you monetize the show.
In order to attract the audience, you will need to PROMOTE your show.
In the movie, Field of Dreams, Kevin Costner's character was told, "if you build it they will come".
This has become a meme now but the truth is if you produce a podcast they will NOT come automatically.
You have to promote the show and build an audience over a period of time.
If you do a good job of targetting the right listener and understand their needs this will be much easier.
If you truly understand your audience you will speak their language and they will feel like they know you right from the beginning because you are one of them.
Who is your ideal listener?
Demographics
Geographic location
Age
Education level
Profession
Gender
Psychographics
Values

Spirituality
Morality
Family values
Individual rights vs societal responsibility
Environment

Opinions

politics
religious beliefs
glass half full or half empty

Lifestyle

marital status
parent
pet owner
works hard
plays hard

Personality

Agreeableness
Conscientiousness
Neuroticism
Extroversion
Define your ideal AVATAR.
An Avatar is the one person who is your ideal listener. You need to describe this person in detail.
What do they do for fun?
What hobbies or sports do they play?
Do they listen to a lot of other podcasts?
What made them interested in your topic?
How old are they? Are they Male, Female, or another gender?
You should know everything about this fictional person that represents exactly who you want to speak to through your show. When you prepare your content, present the material, and promote the show you will be thinking of only this one person.
Of course, other people who aren't exact matches to your Avatar will end up listening to (and enjoying) your content. But you should be extremely focused on who you are speaking to while on the mic.
You can not grow the right audience if you don't know who they are, and what they want, and then give it to them!
📝 NOTE: The audience (potential customers) you choose will have a huge impact on the type of podcast you run. If you are selling high-end, done-for-you services then you don't want to create a podcast that teaches DIY content. Why? because then you will attract people that want to do it themselves and these people will be cheap and will not want to spend a lot of money on your high-end service.
Industry Analysis
Provide a brief summary of the podcast industry. Listener demographics and growth of the general podcast space. It is a good idea to have a good understanding of the space so you can present the opportunity to invest in your show through sponsorships, joint ventures, or fundraising.
Knowing the niche industry will help you develop a better marketing strategy as well.
Also, provide a brief summary of the niche industry of your show. If your show is in the travel industry then write about the growth in travel and increased interest in tourism. Research the numbers and present the data in a persuasive way.
Marketing plans usually include Product, Price, Place, and Promotion.
For podcasting, the Product isn't usually the show (unless the audience is large enough). In most cases, the product is what you are selling. Either your own product or service or someone else's. Price is what are you charging for the products you are selling. The place is the reach of your show. Promotion is how you will get the word out.
Describe where you will find your audience.
Where do your ideal listeners hang out online and how can you participate there?
If your show appeals to professionals then maybe the best place to find a pool of potential listeners is on LinkedIn or maybe some Facebook groups for the profession. The key is to focus your efforts on where your ideal listeners are hanging out online.
Offline Marketing Opportunities
Are there offline marketing opportunities for your podcast?
Tradeshows
Conferences
Meetups
Cocktail Parties
Charity Events
Print Media
Business Cards for your show?
What marketing activities are you going to do regularly?
Map out what activities you will do regularly. I've heard some digital marketers say that they spend 20% of their time creating content and 80% of their time promoting it. I find this a little extreme but the point is taken. You will need to spend a good portion of your time promoting the show.
What services are you going to use to help automate these activities?
There are a lot of social media, email marketing automation, and CRM tools that can help you to reach people more efficiently. I like Publer, Fluent CRM, Nimble CRM among others.
Define what channels you will be using for marketing?
Will you build a website for your show or just use an automatically generated page from your podcast media hosting company? Will you publish your content and interact with people on LinkedIn? Will you be active on Clubhouse? Will you run a Facebook group? Will you build a Youtube Channel to promote your podcast? Will you use Twitter or Instagram as your primary social channel? There is no right or wrong answer here.
↪️ Pick the social channels that appeal to you most and where your Avatar is most likely to be.
Other marketing considerations:
Distribution – Submit to all directories
Unless you have a good reason not to then submit your show to all the podcast directories that are available. The exception to this rule is never to pay to be in a podcast directory. The paid podcast directories are not worth it.
The main podcast directories include Apple Podcasts, Google Podcasts, Spotify, Amazon, Stitcher, and more. A full list of directories can be found over at Podcast 411.
Ratings and reviews
Despite what you probably heard over and over again on a lot of the shows that you listen to, podcast ratings and reviews don't increase your exposure on Apple Podcasts. They do give you social proof which is a great thing to have and can be used in your marketing materials and social media posts to help convince others that your show is worth listening to.
Podcast Website
Will you build your own podcast website or use the generic, automatically generated podcast page that your podcast media host provides.
You can do more with a fully functional website but when you first start out you may decide to wait until later because the media host podcast pages are half decent.
If you build your own website there are a lot of options. WordPress is a popular platform and has plugins that support podcasting. Podpages is a platform designed specifically for podcasters.
Growing traffic to the podcast website:
SEO
Email List
Guest podcasting
Paid ads
social media community
social media interaction
Paid Traffic
Should you join a podcast network?
Don't sign away the rights to your show unless you feel the compensation is worth losing control of your show. There are different types of podcast networks ranging from a podcast federation where member podcasters own their own shows but agree to promote other network members' shows and networks like Gimlet where the shows are owned 100% by them. Be very careful about joining a podcast network as the benefits are not always greater than the cost.
FIRST impression – Album Art (must be great)
The very first thing a potential listener will see when browsing a podcast directory is your podcast album art. Make sure it is eye-catching and professional. High-quality album art is very important and unless you are a graphic artist you may want to outsource this.
The Podcast Design Co is a great option if you don't have the skills to design your own album art.
Check out this article for Podcast Album Art specifications and requirements.
Color pallete
Picking some brand colors for your podcast is a good idea. There are some good sites that can help you pick colors that go well together and then you will use these colors for your album art, website, and social media graphics.
Account-Based Marketing
If you are starting a podcast that will be promoting an existing business you own then you may want to consider an account-based marketing strategy.
Account-Based Marketing is a strategy that Business to Business podcasters utilize to build relationships with decision-makers in target accounts.
You will need to list all the target accounts and the decision-makers within them.
Then contact the target clients and schedule them to be interviewed on your podcast.
The idea is that it is easier to get a podcast interview than to schedule a sales call.
Then after a relationship is established you can talk business.
You don't have to have an Account-Based Marketing strategy in all your episodes. You can have different podcast episode strategies that you cycle through.
Other Podcast Marketing Strategies
Each episode should have a purpose. What is the call to action you want people to follow after listening? We just went over the Account-Based Marketing Strategy but there are others you can implement.
Revenue Generation – promoting specific products on an episode
Awareness – letting your audience know about a new area of business your company is in.
Goodwill – presenting information on charity work or community activities you are engaged in.
Email list building – enticing listeners to sign up for the newsletter
Word of mouth marketing – asking listeners to share the show.
💸 Podcast Profit Plan
Now that you have worked through a good portion of the Podcast Business Plan you probably realize that this podcast thing takes a lot of your time, and energy and costs money!
So now it is time to plan how you are going to make money from your podcast.
But don't spend too much time here because you can't monetize a podcast until you have built an audience. Remember the 4 P's of Podcasting – Planning, Production, Promotion, Profit.
Profit is the last of the 4 P's and you have to get the other 3 P's right first or you won't have an audience to sell anything to.
So focus most of your time on making your show the best it can be. Then focus some time on promoting your show. Then you will be able to work on the final P (profit).
Having said all of that it is good to have an idea of what the monetization options are so that you can plan your target listener properly. And you can keep these podcast monetization methods in the back of your mind as you build your show.
🤑 There are a ton of ways to make money podcasting!
Sponsorships and Advertising
Affiliate Marketing
Joint Venture Partnerships
Podcast Merchandise

Tee Shirts
Coffee Mugs
Stickers
Cell phone cases
Bumper Stickers
Baseball caps

Digital Products

eBooks
audiobook
Online Courses
Membership site
Templates
Paid Webinar
Virtual Summit
software

Physical Products
White Label services

Re-label another service under your own brand

Active Campaign
Name Hero Webhosting

Private Label Rights (PLR)

Premium Podcast Feed
Donations and Crowdfunding

Paypal button
Patreon
Podbean Patron
Buy Me a Coffee dot com
Kickstarter
IndieGoGo
and more

Selling your own services

Consulting
Coaching
Professional services (accounting, etc)

Promoting an existing business
Pick the monetization methods that are best suited for your show.
Decide what podcast monetization and when you will implement them.
Remember before you start to Profit from your podcast you have to build an audience.
Again >>> Profit is the last P in the Four P's of Podcasting.
A traditional business plan includes a financial projection with cash flow analysis on a monthly and quarterly basis. But for an independent podcaster, I don't think it is necessary to create financial statements when you write your first draft. Remember this will be a living document and once your show is successful you can add an income statement, balance sheet, and cash flow statement. Until then, just a brief summary of your intended monetization method will suffice.
---
A Final Word on Business Planning for Podcasters
As you can see it will take some time and effort to write out a powerful podcast business plan. If you choose to use a tool like Notion to write out your plan I can help you as I am building a template right now. You can sign up to be the first to know when it is available.
But even using Notion can take some time to set up your system and tweak it to your way of working. Even using a template can be time-consuming.
So I am recommending that you check out UpMetrics Podcast Business Plan Template. Not only do they have a template you can use to build out your own Podcast Business Plan but their software walks you through each step of the process.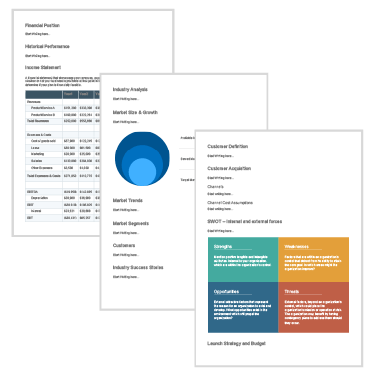 This makes it easier and saves you a lot of time. So for the investment in their service, you will have more time to produce more content or grow the show.
I hope you enjoyed this article and I wish you the best of luck in creating your Podcast Business Plan and launching a podcast that achieves the goals you set for yourself.
If you fail to plan, you are planning to fail.

Benjamin Franklin